Forgiving is Twice a Blessing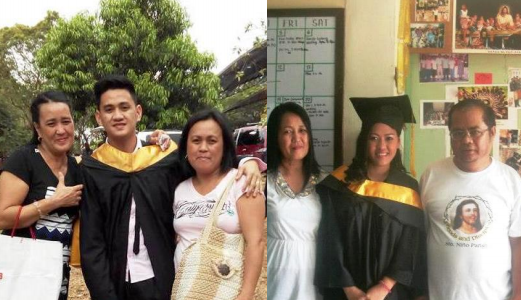 Some weeks ago, I received a text message from my husband informing me that our sons, Rodel and Jomar, had visited him and that they even gave him some money for his daily needs. It was truly a happy surprise for me. The Holy Child has answered my prayer. Mercy has slowly and finally overcome the anger and resentment in their hearts.
It was in 2004, more about twelve years ago, when my husband, a jeepney driver, left us to live with another woman. For a year, he gave us some financial assistance. Then, he completely abandoned us.
When I came to see him to ask for help I was even physically abused by some relatives of his live-in partner.
We have five children. Three were then in the secondary school and two in the elementary. To survive I had made a deal with my children. I would work to find money and they would do the household chores, including cooking.
Almost every day, I would leave our house at four in the morning and come back home at nine in the evening. I peddled rugs along the street in the nearby city. Each day I had to dispose 1, 000 pieces of rugs. If I was able to meet my quota for the day early, I would sell cigarettes till 9 p.m. John Paul, my youngest son, would usually join me after his school classes.
Coming home one evening, we passed by the former parish church of Sto. Nino, a new parish entrusted to the Missionaries of Jesus. John Paul noticed the joyful people inside. He asked me that we come inside for a while.
One of the ladies inside told me that it was the Couple for Christ group and I was invited to join them. Curious and also hoping it would be of help to me, I attended their seminars and soon became a member of the CFC's Handmaids of the Lord
My coming to the church had broadened my horizon. There I met so many loving and compassionate people. I stopped peddling rugs and cigarettes in the city street. Instead, I started doing the laundry for some people I had met and got acquainted with in the parish. Until now I do this.
When Joyce, who was then 11 years old, became among the first beneficiaries of the Student Assistance Program created by the Sto. Nino Parish in 2004, I became more involved in the church. I joined the Mother Butlers Guild. I also encouraged my children to participate in parish activities, whenever possible, as way of showing our gratitude to the God of Mercy and Compassion who had always been with us and for us.
Despite trials and financial difficulties, Ronel and Rodel finished their vocational course and now work as electrician and linesman, respectively. Jomar who had temporarily stopped going to school to work as a server in a fast food chain, is now taking up a course in Hotel and Restaurant Management. Joyce and John Paul both have now graduated from college. John Paul is now working in the Human Resource Office of Goya Company; Joyce, in a bank.
Joyce is also now a member of the Student Assistance Program Committee of Sto. Nino Parish.
I have already forgiven my husband. This was difficult to do. For many years, it was hard for me to pray "forgive us our sins as we forgive those who have sinned against us". Thank God I have learned to forgive. And, indeed, forgiving is twice a blessing; a blessing to the forgiven also to the one who forgives. Being merciful had opened my eyes to the many blessings God had bestowed on me and my family which I simply could not see before because of anger and indignation.
dignation. I have told my husband Fernando that I have forgiven him but not all our children are ready for his coming back home. They were wounded in different degrees. For some, healing will take time a longer time. Thus, how great was my joy when I heard that two of them came to pay him a visit some weeks ago and gave him help
My involvement in the parish has been of great help to me and my family. Indeed, the church is sacred place where the heavenly signal is excellent. The best place to heed Pope Francis' exhortation "Download the best link of all; a heart that sees and shares goodness without getting weary."
Ofelia Afable Reyes – Sto Niño Parish, Rizal