God Will Find a Way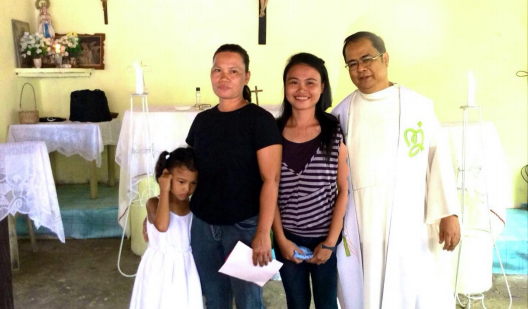 On May 31, on the Feast of the Visitation, Fr. Efren Reyes, M.J., came to celebrate the Holy Mass in our Christian Community in Lumintao, Calintaan, Occ. Mindoro. Many people, mostly farmers, attended the thanksgiving celebration. I, together with my mother and sister Janah, joined our community in praising and thanking God, our ever-merciful Father
Life is full of challenges, trials and difficulties but also of countless blessings from our loving God. Joyful people are those who know how to recognize, count, cherish and make the most of God's multiple blessings, instead of sulking and crying over what is missing.
Being the eldest of three siblings, I dreamed of obtaining a college degree in accountancy, pass the board exam and land a job to support my family. But some years ago, even before I could finish my secondary education, my father left us and lived with another woman. To make both ends meet, my mother had to work part time as saleslady and as a laundry woman. And when she got sick, and had difficulty using her swollen right hand, my younger brother stopped going to school to earn some money by working in the fields of our friends and relatives.
When my father, a carpenter, stopped sending us financial assistance and totally abandoned us, our life became a daily struggle, and my dream an almost an impossible dream. Yes, an almost impossible dream, but I kept on dreaming. I firmly believed in God's loving mercy. God would a find a way.
In January 2014, a couple of weeks before my high school graduation, I met Fr. Efren, the newly assigned co-pastor in the M.J. parish in Calintaan, Occ. Mindoro. I shared with him my almost impossible dream. He told me not to be afraid of dreaming beautiful dreams no matter how impossible they may seem to be. Because God is compassionate and merciful, especially, to the little ones, the Friends and Disciples 8 poor, the abandoned and the humble. He told me not lose hope, and that I should pray for him that he would have the courage and humility to beg from his friends to support my college education.
Just a week before the start of the school year 2014 – 2015, Fr. Efren was able to solicit enough money for the first instalment of the tuition and miscellaneous fees that I had to pay for my enrolment in the Divine Word College in the nearby town of San Jose, Occ. Mindoro. Thanks to our merciful God, and Jesus' friends and disciples, my almost impossible dream has started to be realized
This coming school year 2016 – 2017, I will be in third year college, taking up B.S. Accountancy in the Divine Word College, Occ. Mindoro. Thanks to the friends of Fr. Efren. God indeed is merciful! He sends His friends and disciples to bring hope and joy to the poor. Truly, the Missionaries of Jesus are Messengers of Joy!
After the mass on the Feast of the Visitation, Fr. Efren came to our humble abode. My little sister Janah who was usually timid, gradually, could overcome her shyness. She too was smiling and joyful at the end. She had found a new friend, a disciple of Jesus.
Trisha Rodessa Amboy – St. Michael Parish/Calintaan, Occ. Mindoro